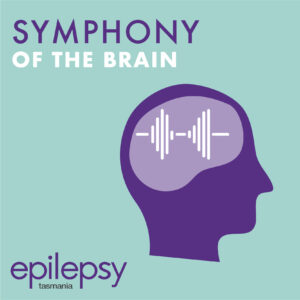 Epilepsy Tasmania is very proud to present its first podcast audio series.
Symphony of the Brain is a collection of honest, confronting and inspiring reflections on a condition that is often hidden.
Listen to twelve Tasmanians share their journey with epilepsy, in their own words, to raise awareness and understanding of a condition that affects 1 in 25 Australians.
Epilepsy is something most people don't talk about much. It's something many of us don't understand and - to be honest - the thought of someone having a seizure freaks us out a little bit. Epilepsy Tasmania wants to change that - and help people who have no experience of the condition to understand what it's all about, to demystify it and in turn help make life better for people who are affected.
We have continued the Symphony of the Brain epilepsy podcast series for Purple Month 2021; a worldwide grassroots campaign aimed at getting people talking about epilepsy, reducing the stigma, and helping those affected live full and happy lives.
About one in five of us are affected by epilepsy, directly or indirectly. Despite this, there is still a seemingly immoveable stigma surrounding the condition.
Epilepsy is far more than just seizures, and we hope these stories will give you an insight into this.
Epilepsy is a common brain condition that takes the form of recurring seizures. It can develop at any age, regardless of ethnicity or gender.
About the Epilepsy Tasmania Podcast Series
From stories of love and overcoming the odds to others of bitter tragedy, Symphony of the Brain takes us inside the minds of people effected by epilepsy. Released for Purple Month 2020, and continuing in 2021, Epilepsy Tasmania has produced a diverse and powerful series of stories that give us a sense of what living with epilepsy is like.
Lila
Dr Lila Landowski is a neurologist with the Menzies Research Institute, and she has a knack for explaining very complicated neurological mechanisms in a way that everyone can understand.
In this episode, she takes us through exactly what epilepsy is and why it can have such a profound impact on someone's life.
Shaun
Shaun is a father of two girls, Lilly and Harper, and his journey with epilepsy has been lifelong. Three years ago, his wife Tamika suddenly and unexpectedly died as a result of epilepsy.
For reasons that are poorly understood, people with epilepsy have an increased risk of dying suddenly for no discernible reason. It's a condition known as SUDEP (The Sudden, Unexpected Death of someone with Epilepsy).
Shaun himself has lived with epilepsy form a young age. This episode is devoted to his story.
Wendy
In the years she has been at the helm of Epilepsy Tasmania Wendy Groot has seen the full spectrum of effects epilepsy can have on peoples lives. From triumph against the odds to bitter disappointment and tragedy, Wendy has been there, standing by the people Epilepsy Tasmania represents. This episode is her story.
Amy
Amy is a career-driven, ambitious woman. She was diagnosed with epilepsy 15 years ago but initially refused to believe it. She spent the next decade and a half keeping the condition as secret as possible, telling only the people closest to her and her employer. The stigma surrounding epilepsy was a huge factor in her secrecy. Would people treat her differently if they knew? How would it affect her career? She was scared about what would happen if people knew.
This episode of My Journey is the first time she has spoken about her experience of epilepsy publicly and she holds nothing back.
Daniel
Daniel is a father whose seizures were becoming so frequent they were affecting his ability to care for his young daughter. He made the tough decision to have brain surgery, knowing that there was a chance it wouldn't work.
Daniel started having seizures as a child, and by the time he was in high school, they were happening so frequently that he was almost guaranteed to have one in the classroom every day.
Being a young father affected by epilepsy, Daniel thought it was important to share his story through the My Journey series. He hopes others affected by the condition will know they are not alone and that those with little experience of epilepsy will learn how they can better support friends or family who are.
Riley and Maria
Riley left school wanting to achieve one thing, to join the military. Since he was a child, he wanted to serve his country and did everything possible to make sure that when old enough, he could achieve his dream. But things didn't go to plan.
The first hurdle came when he found out he was colour blind which made ruled out serving on the front line. He changed tack and decided would enlist as a medic. It was his plan B, and he was ready to deploy when he had a car accident which he couldn't fully explain. A few days later, his dreams were dashed when he was diagnosed with epilepsy.
It was a massive blow to Riley, who had to rethink his life completely. His mother, Maria, committed that she would devote her life to helping him refocus and find a new and fulfilling path. This episode of My Journey is their story.
Derek
Derek had his first seizure at the age of 60 and was diagnosed with epilepsy shortly after. He's a man who loves the outdoors and competed in shooting and fly fishing. But since he started having seizures he has had to find enjoyment in the simple things.
Derek says stress can bring on a seizure so he's simplified his life and has taken a "don't sweat the small stuff" approach to life.
Jules
Jules has been affected by epilepsy since she was a kid and it's just been part of her life for as long as she can remember and she thought he daughter Annabelle would have the same experience. But Jules and her family were devastated when she lost her daughter to SUDEP.
SUDEP is the sudden, unexpected death of a person affected by epilepsy. Every day someone in Australia loses their life as a result of epilepsy and half of those are a result of SUDEP.
Jules now sits on the board of Epilepsy Tasmania and has resolved to do all she can to help others affected by epilepsy and to raise funds for epilepsy research. This episode is devoted to her story.
Glenda
Glenda is the devoted grandmother of seven year old Lila. She was there for her birth and has played a crucial part in her life, despite the fact that they live on opposite sides of the country.
Lila was diagnosed with epilepsy when she was 9-months-old and later with Dravet Sydnrome, a severe form of the condition. She has been in and out of hospital more times than Glenda cares to talk about and is always ready to make the trip from Launceston to Perth to be with her granddaughter.
Glenda has taken an active role in raising awareness of epilepsy and wants to do all she can to break the stigma and help people like Lila live full and happy lives.
Jenni
After noticing a student having a seizure during a lunch break, Jenni, a teachers assistant, has played a leading role in making sure all teachers were trained in epilepsy first aid. Her story and her experience with seizures are not just from her work.
A few year's ago, Jenni's daughter, Hannah, started having uncontrollable convulsions. Having had some experience of epilepsy, Jenni was sure Hannah was affected by the condition and sought the advice of doctors in the hope of finding a preventative medication. However, the experts said Hanna's convulsions don't match the criteria for epilepsy, and they're not sure what is causing her convulsions.
Hannah
Hannah is a second-year medical student who faces her own medical mystery. A few years ago, she started having uncontrollable and unexpected convulsions which, to most people with any experience of it, appeared to be epileptic seizures. But doctors say she doesn't fit the criteria to be someone affected by epilepsy.
With a definitive diagnosis, Hannah can't take medication, so her condition can't be controlled. The constant uncertainty that she could have another episode at any time is having a profound effect on her life.
This episode is the story of how Hannah and her mother Jenni (from episode 10) are determined to work out what is causing Hannah's condition and how the uncertainty is affecting their lives.