March is Epilepsy Awareness Month and it's easy to show empathy and solidarity for the 20,000 Tasmanians who live with an epilepsy diagnosis.
Just Go Purple: wear the colour purple, decorate or light your building purple, bake and share something purple - do anything purple to get people talking and learning more about a condition that still results in shame and discrimination.
SUPPORT OUR EVENTS
No events
JUST GO PURPLE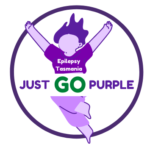 Choose FREE resources to help you fundraise or raise awareness of epilepsy.
It's the simple things that matter, so no matter what you do to raise awareness of epilepsy this March - Just Go Purple!
#PurpleLightsTas
Buildings across Tasmania are lighting up purple!
Epilepsy is something most people don't talk about much. It's something many of us don't understand and – to be honest – the thought of someone having a seizure might freak us out a little bit.
Epilepsy Tasmania's podcast series aims to change this by helping you understand what it's all about from the people who live with it.
Listen now or download and listen later.